Relations between Europe and the Arab world have not always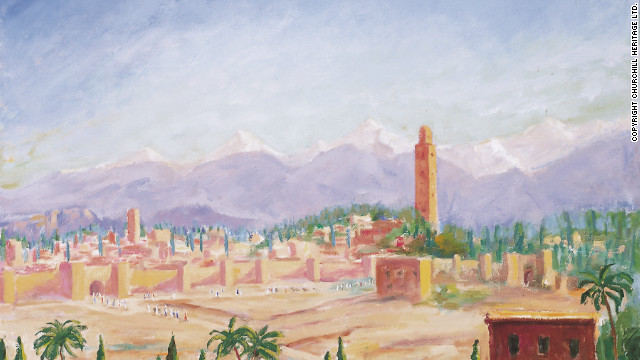 been easy. And until now, few knew of the contribution made by Winston Churchill to building bridges of trust through his painting.
In a new exhibition entitled 'Meetings in Marrakech' just opened at the Leighton House art gallery in London, the remarkable artistic friendship of the British premier and a Berber tribesman Hassan El Glaoui is explored through 24 oil paintings all completed in that city.
El Glaoui, nobly born and the son of the Pasha of Marrakech, only became an artist at all thanks to the encouragement he received from Churchill during the latter's convalescence in Morocco. Churchill had been in the habit of visiting Morocco and his personal friend the Pasha on painting trips through the 1920s and 30s, but the 69-year-old went there in 1943 to recover from a bout of pneumonia.
It was during this stay that the Pasha asked him what he could do with his son who earnestly wished to become a painter, an un-heard of career for one of his social standing.
After studying some of the young man's sketches Churchill advised his father to let the boy pursue his painting, and the young Hassan El Glaoui went to Paris to study at the Ecole des Beaux Arts, and within years his career was flourishing with his works being widely bought in Europe, North Africa and the United States.
Now 88, El Glaoui still lives and paints in his hometown of Marrakech and acknowledges the central role that Churchill played in persuading his father to relent. 'I am extremely grateful to him for whatever influence he exercised on my father. Without him, I might not have been sent to Paris,' he said.
'I believe I would have pursued painting no matter what but, without the occasion to learn in Paris from great teachers, and to be around other artists, my style would have been different,' he added.
The Leighton House exhibition acknowledges this debt by juxtaposing the oils painted by Glaoui with scenes of Marrakech from Churchill's own hand. 'Churchill often talked about the light of Marrakech in his letters to my father and by how he was inspired by what he saw,' Hassan remembered. 'Even though he was a Sunday artist and never studied painting, he knew how to use a brush. I recognise the Marrakech of my youth in his paintings.'
Why not go to the Winston Churchill Shop for yourself and see why the great man's paintings are so highly regarded. There is a wide selection of his finest works available as prints, tapestries, enamels and much more.