Oldham in Greater Manchester may not be the most glamorous place associated with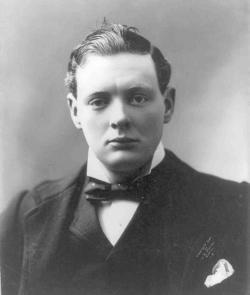 Sir Winston Churchill but it was there that his glittering political career was ignited when he was elected as the Conservative MP in 1900.
Now, a letter written by Britain's legendary leader has been donated to the town after the council leader stepped in to buy it.
The letter, written in 1950 when he was leader of the opposition, is addressed to Sir Hamilton Kerr, another of the town's former MP's, expressing Sir Winston's regrets at not being able to travel to Oldham in person to receive the freedom of the borough.
The document had been offered to Gallery Oldham by a private seller, but the necessary cash sum could not be found and it was in danger of being sold abroad until current council leader Jim McMahon stepped with his own money to buy it for the borough. The price has not been disclosed but similar items have fetched four-figure sums in the past.
Councillor McMahon, who is a keen historian, said: "I wanted to see this document kept in our civic archives so that future generations of local residents can see it, rather than it going to auction and falling into the hands of a private collector.
"It does seem a great shame in hindsight that Churchill never found the time to come back to the borough to officially collect this honour because I'm certain he would have received a great reception."
Gallery Oldham already has a collection of Churchill memorabilia including posters of his successful 1900 election campaign, a bust and a painting.
Sean Baggaley, social history curator at the gallery, said: "We have really good information about the early part of Churchill's career – but we've not got much about his later career. It's one of those stories that we often tell but we've not been able to illustrate it before."
The text of the letter reads: "I am so sorry not to be able to make any plans at the present time to go to Oldham to receive the Freedom of the Borough. I am constantly bearing the matter in mind, but until the pressure of my commitments decreases, I am afraid I cannot add to my engagements.
"Thank you nevertheless for drawing my attention to it."
Actually owning a letter signed by Sir Winston might be beyond the pocket of most of us but you can certainly afford a bust of the great man. Why not look at this wide selection of busts in different styles and materials, or perhaps you would prefer an etching for your wall. These and many more fascinating gifts are all available at www.winstonchurchillshop.com.